Dear Panther students, parents, and staff: It has been my pleasure working with all of you and taking care of our school and students. I will miss each and every one of you. Please take care of each other. Leggett is a very special place and community. With so much love and Happy Holidays to you, Stephanie

Tomorrow, Friday December 16th, will be an EARLY RELEASE day! School will get out at 1:00pm and the buses will run on the early release schedule. Dr. Ritchley says, "Happy Holidays!".

Please let the office know if your student(s) will need to stay at school for the Holiday Program tomorrow or ride the bus home. 707-925-6285

Reminder: Holiday Program is tomorrow, December 15th at 4:30pm.


Students will be back at school at about 3:00pm. for those who get picked up from school. The after school program will also run as normal.

Reminder: Monday, December 12th is a school day!

Students are coming home with permission slips to see a movie in Ukiah on Friday, Dec. 9th. Grades K-8 will see Disney's Strange World and grades 9-12 will need permission (if they are under age 18) to see Violent Night with an R rating. Please look for the flyer and permission forms sent home today. Thank you.

Elementary Parents, there is some confusion around parent/teacher conferences and your students getting picked up at 1pm. Picking up your student is completely optional. It is still a regular school day and the after school program is still running.

We have a five day school week coming up. Monday, December 12th will be our make-up day from missing school when we did not have water.

Reminder: We have school on Monday, November 7th, due to Friday, November 11th, being a Holiday.

Spirit Week! Tomorrow is Disney Day!

Reminder: Tomorrow is Picture Day! Also, Boo-Grams are due in the office by Friday at 4:30pm.

Please text or email Amber for reservations and you can enjoy a fabulous Italian dinner.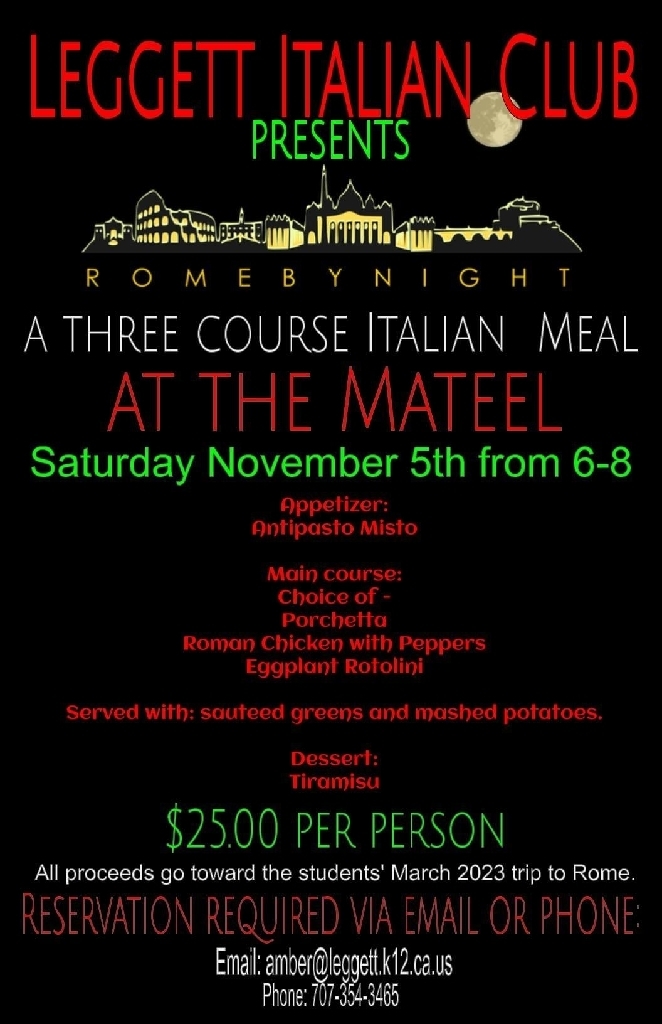 If your student plans on staying afterschool for Movie Night they need permission from a parent to do so. If they do not have permission they will be sent home on the bus or will need to be picked up. Please call the school or let your students teacher know by text. Thank you.

We have a power outage at school. Expected restoration is 7:15pm tonight. We are sending students home. The busses will be here shortly. Please pick up your student now if they do not ride the bus.


Picture Day is Thursday, October 20th. Keep an eye out for order forms coming home with your students today.

The Ceramics class will be holding a Bake Sale in front of the Leggett Mercantile on Oct. 12th @ 10am until sold out. They are in need of any parent volunteers who would like to donate goods or bake for the sale. Drop off baked goods at the store between 9 and 11 the day of. Thank you for your time.

Happy Monday Panthers! I would like to announce that we have booked Missoula Children's Theatre, February 20th-25th, for the show The Jungle Book.