Dear Parents, Guardians, and School Board Members: Please remember to download the Leggett Valley Unified School District app in the Apple Store and in Google Play. Once you have the app, you will be able to get all the current up to date information, texts, pictures, and calendar. Have a wonderful weekend, Dr. Ritchley

Dear Leggett Valley Unified School District families, this is Dr. Ritchley, your Superintendent. Welcome back to another exciting school year. You will be receiving a welcome back letter from the District soon. I have attached the letter to this communication. If you have any questions or concerns, my cell phone number is (760) 401-6597. I look forward to seeing everyone real soon! Sincerely, Jeffrey A. Ritchley, Ed.D.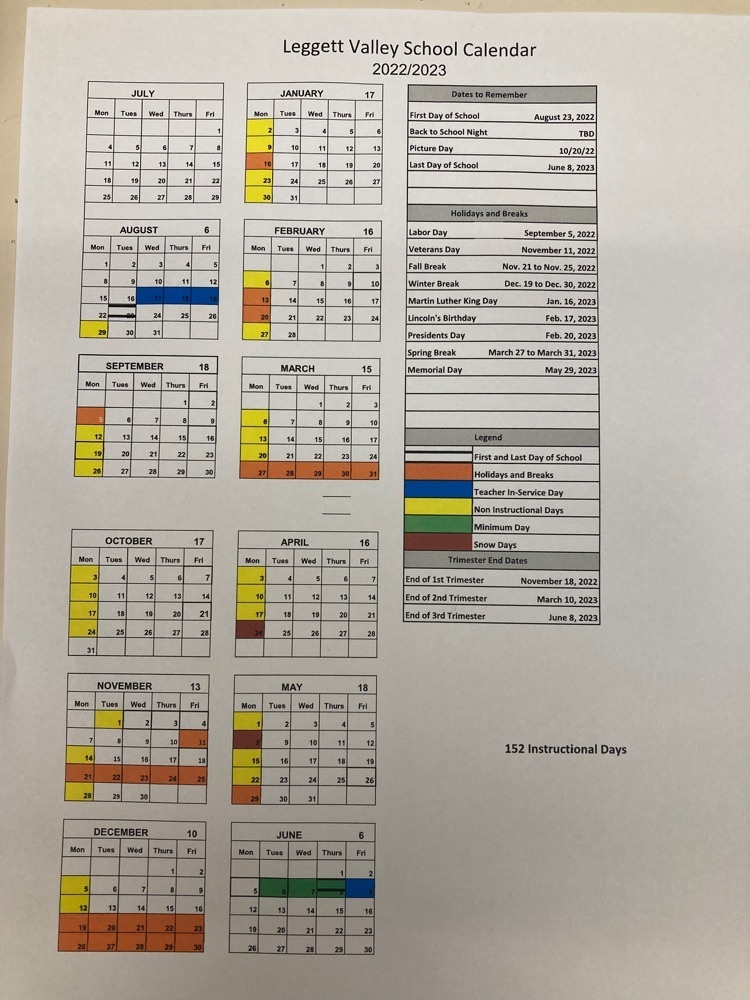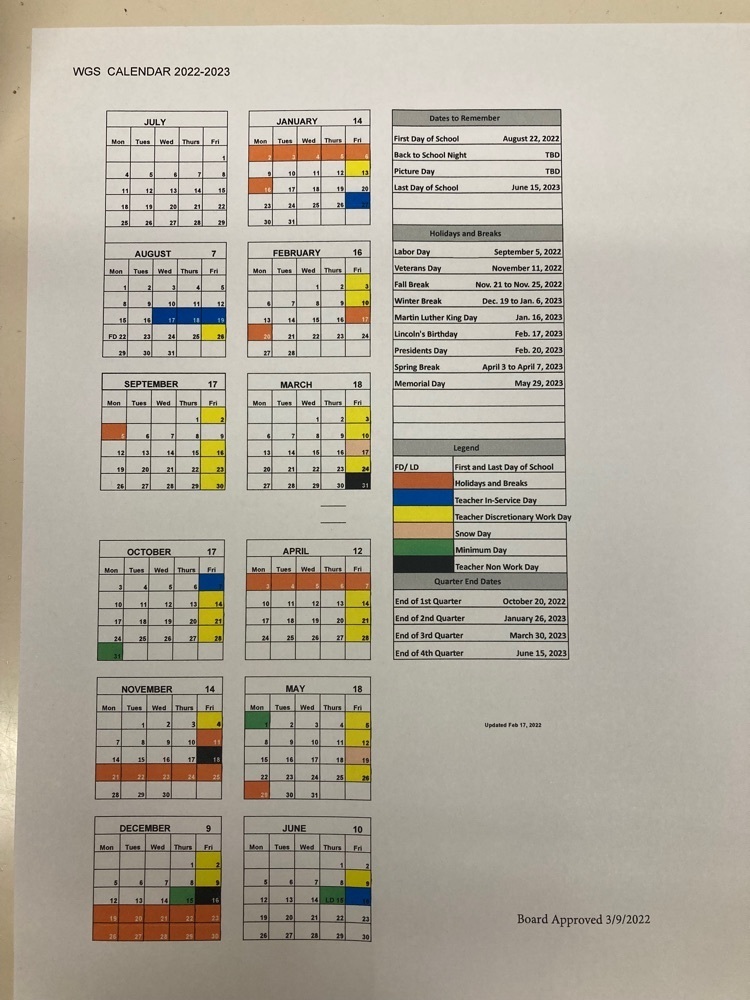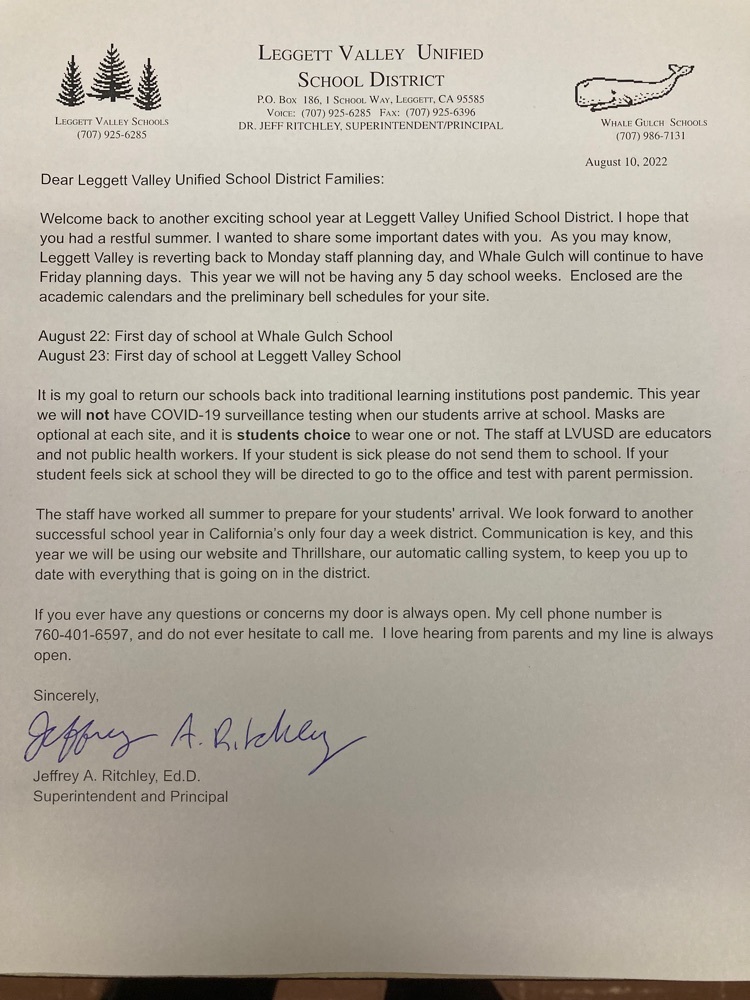 Good Evening Parents, Students, and Caregivers: The County Health Department Dr. Coren has asked all staff and students to continue masking indoors for two more weeks due to our COVID status countywide. This is why he has kept the mask mandate going for so long. He personally requests that all school leaders send his message of please continue to wear masks indoors for two more weeks. I will be encouraging all staff and students to continue to wear masks indoors for two more weeks, and after two weeks we will reevaluate. This is not mandatory. Personally, I will follow his science and continue to wear a mask myself, and model good citizenship the best I can. As your leader, I will double down on his request by rewarding all students & staff that wear a mask during class the next two weeks by providing a pizza party from your favorite pizza place, and a choice day the same afternoon to help raise morale. Please have grace on each other as we slowly transition back to regular life. I look forward to having some pizza and doing some choice activities with you.

Student Work at LVHS.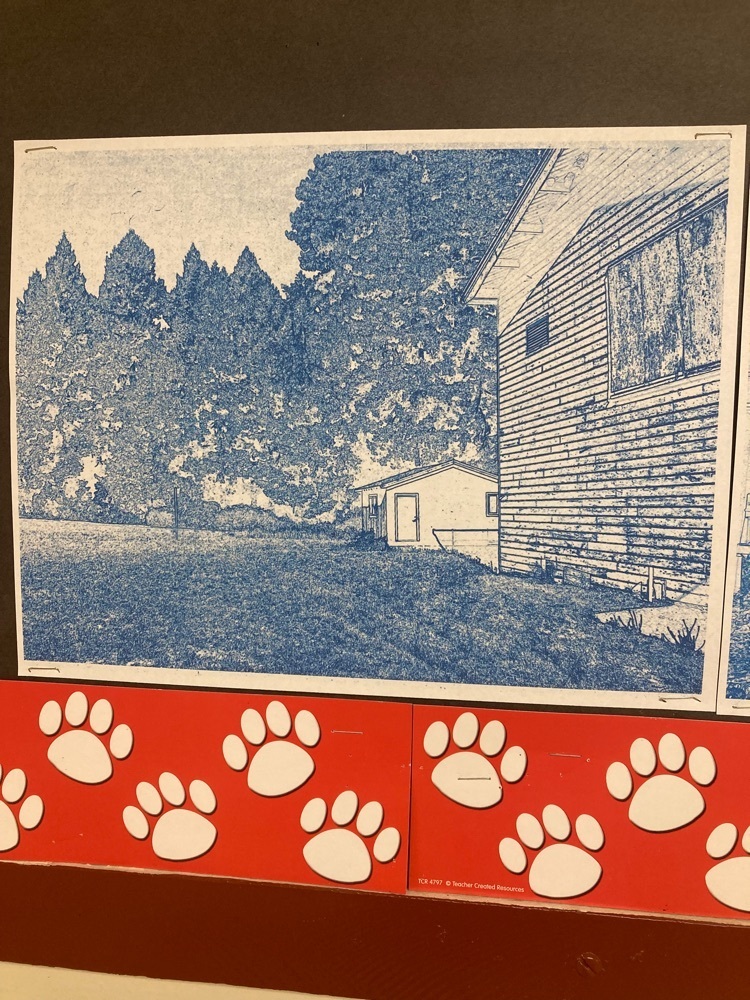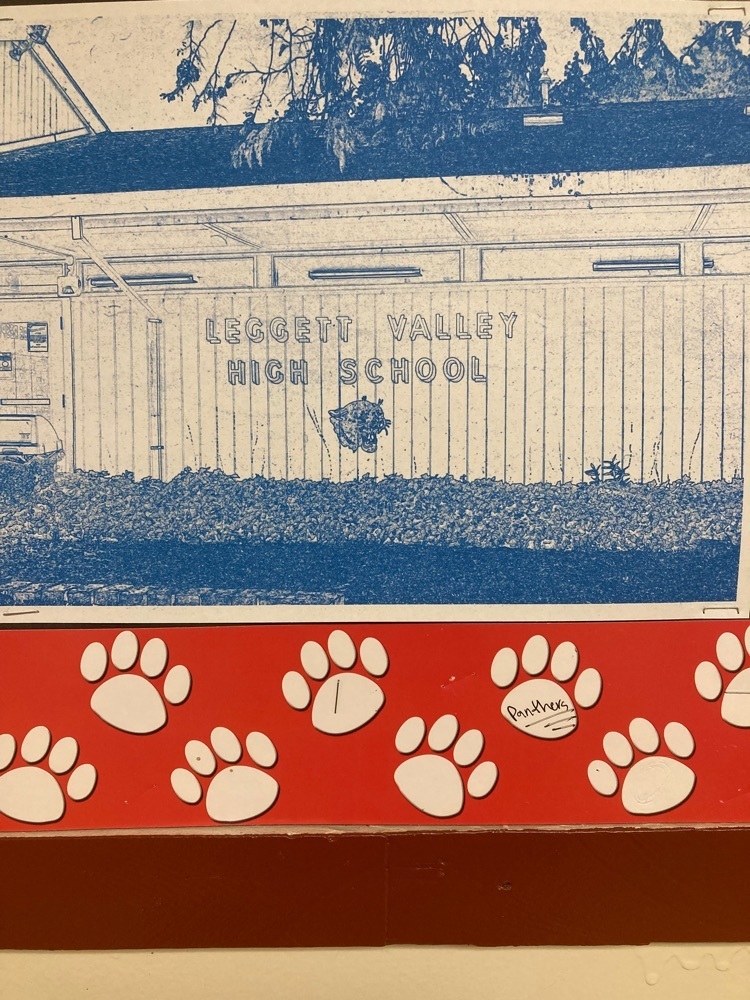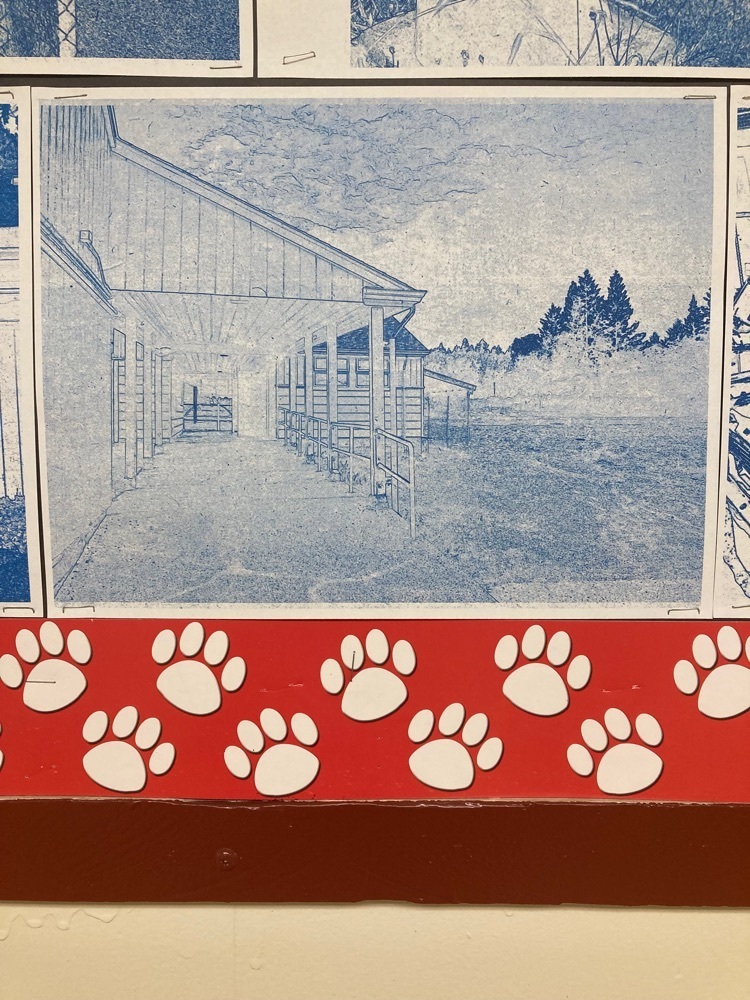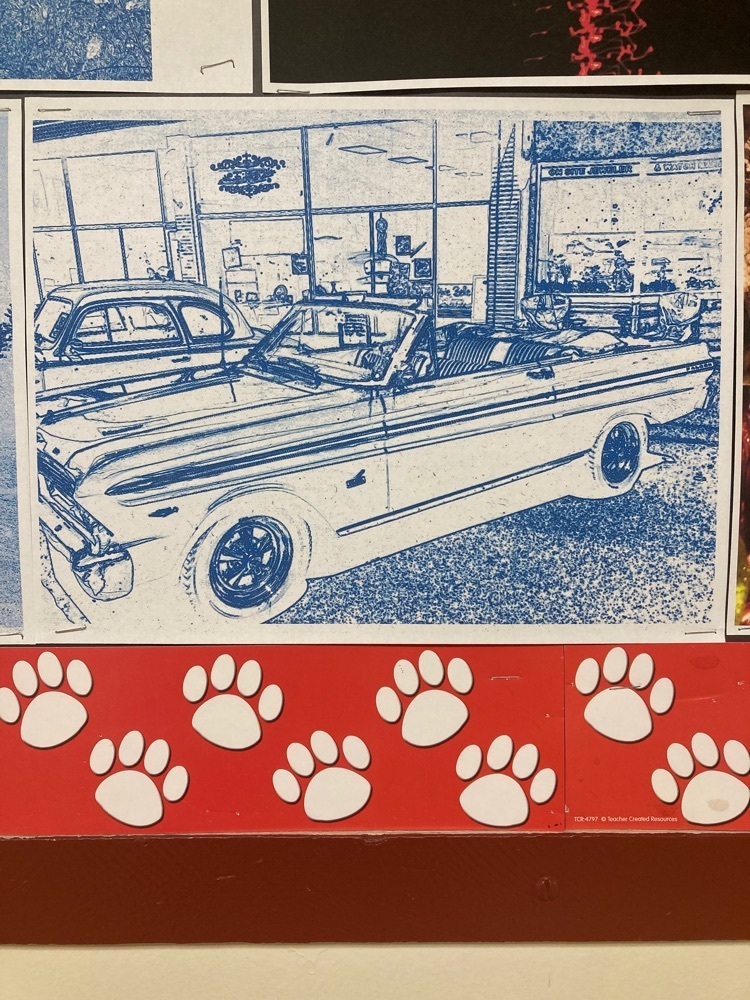 Congratulations to the following students for making Leggett Valley and Whale Gulch Honor roll!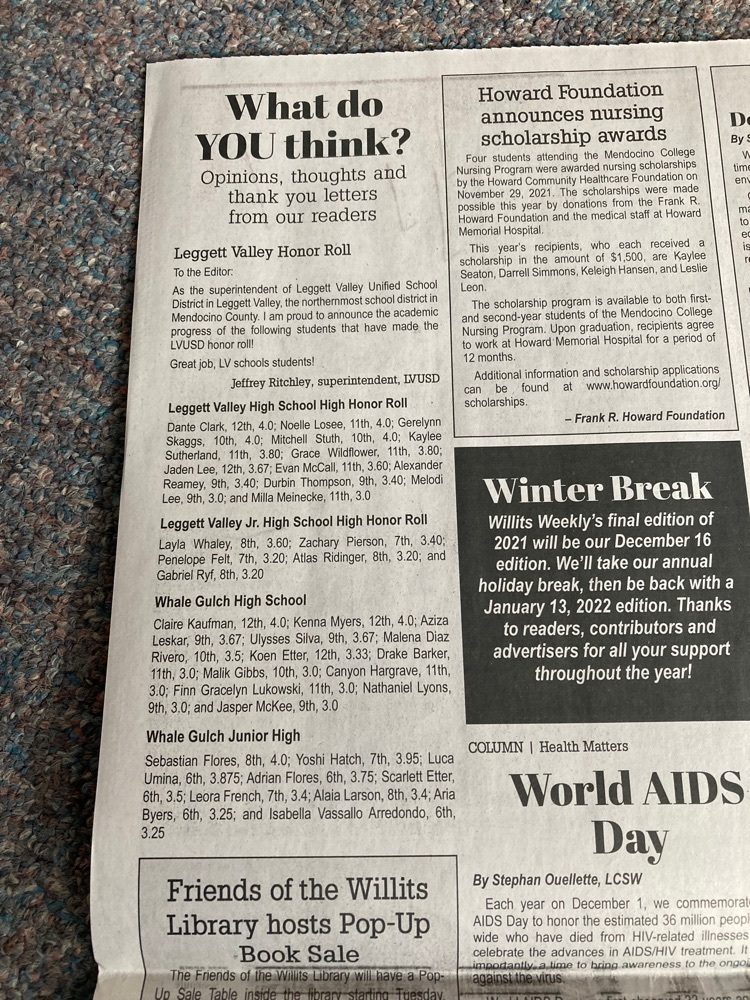 May your vacation days be merry and bright! Love all around, WGS 🎄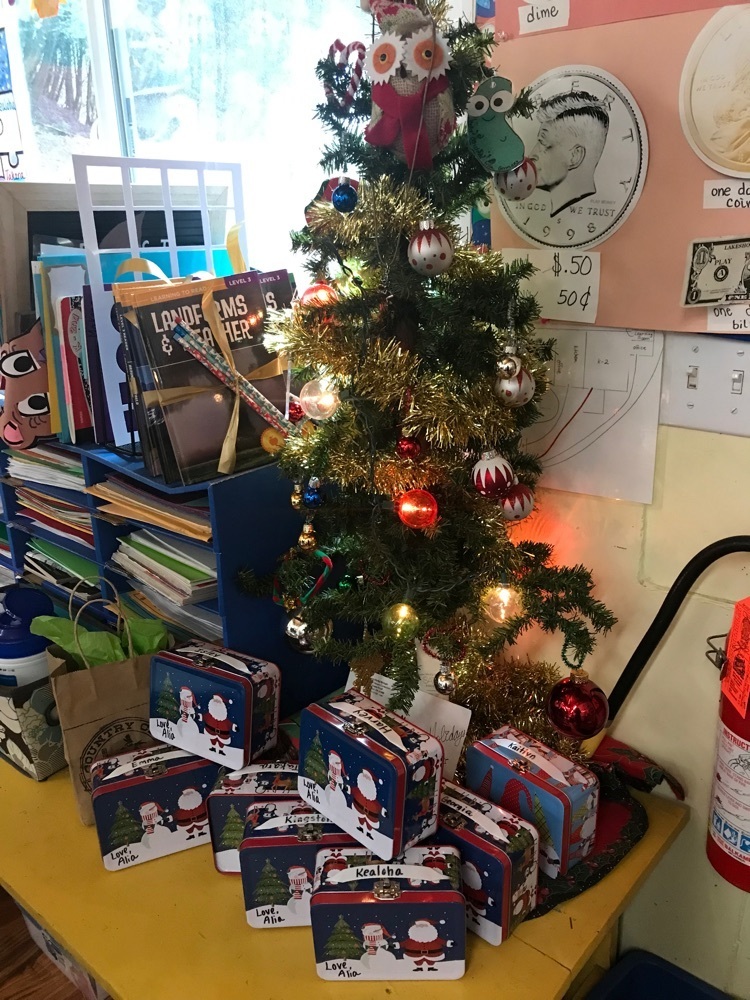 A holiday fair (full of crafts) brought to the students by the high school leadership class! Way to share the holiday spirit of kindness and generosity 🎄.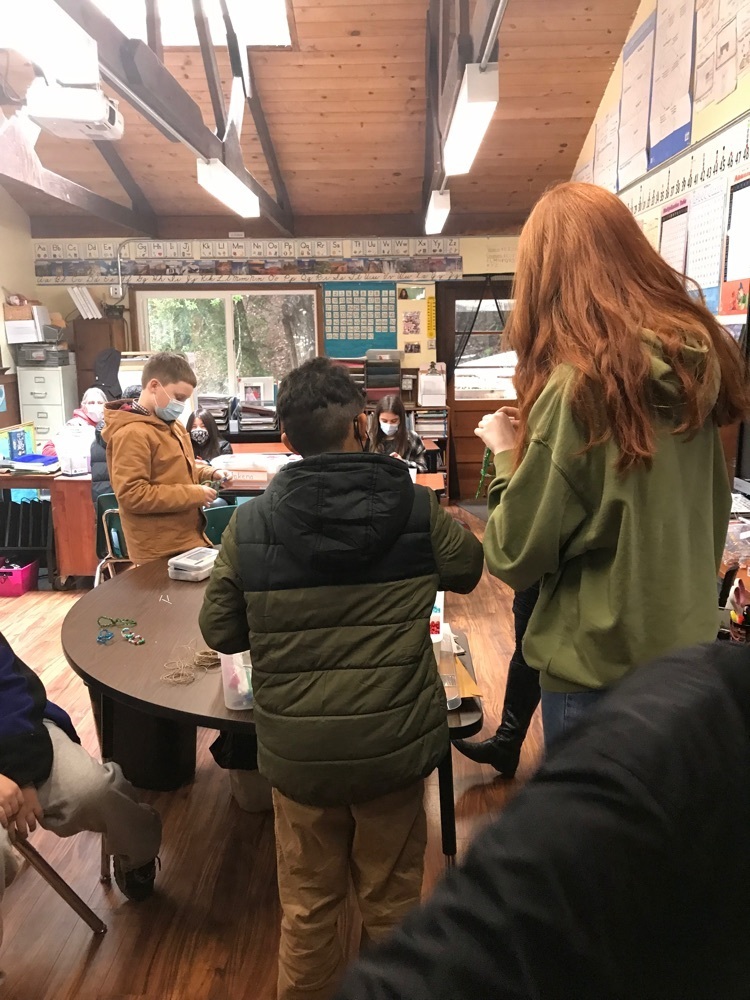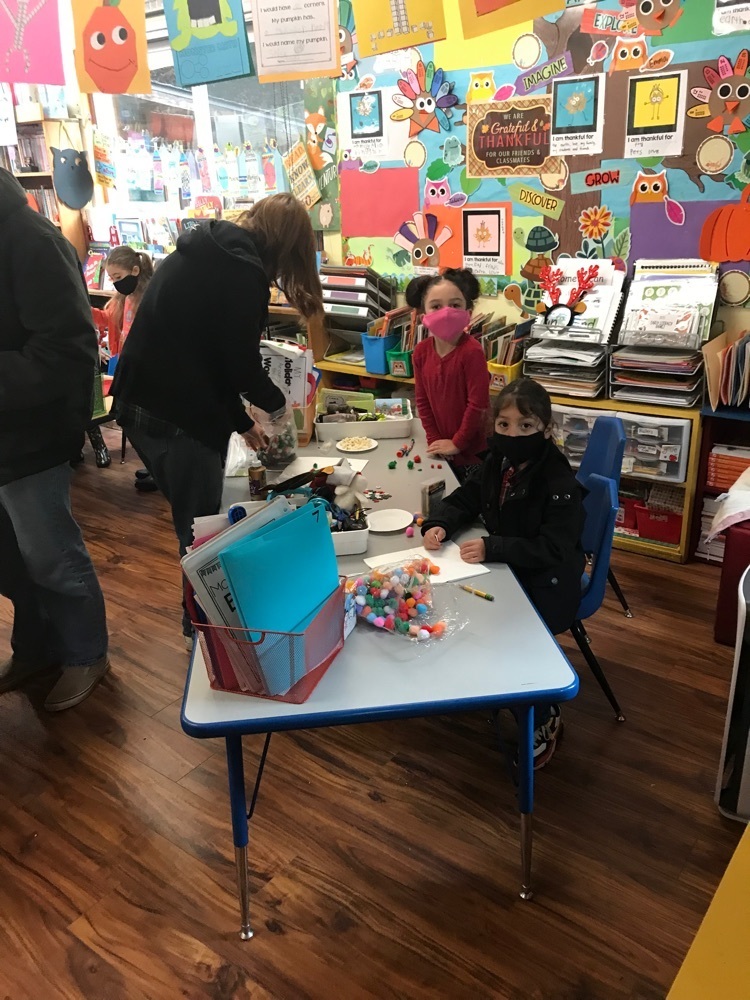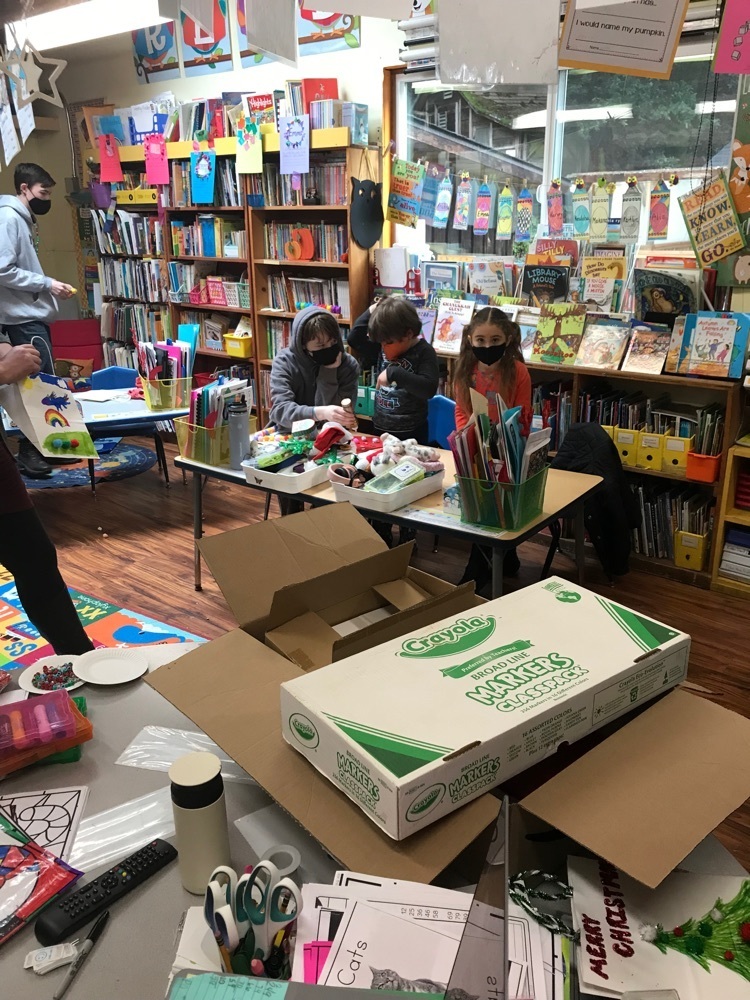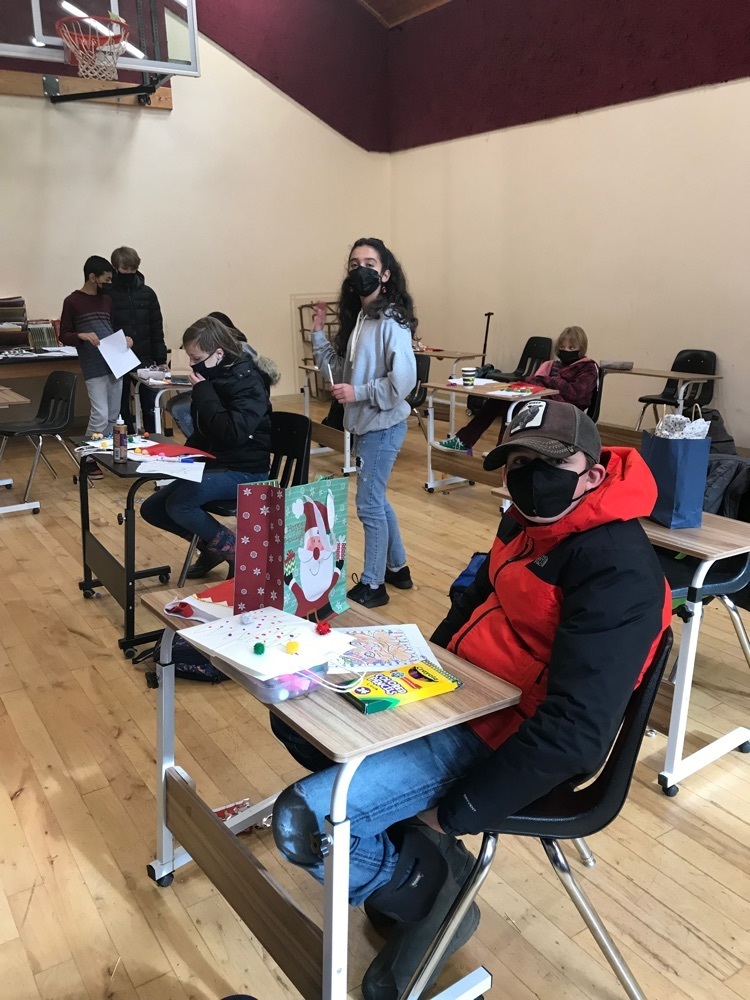 Fun final day of school! Here is the high school celebrating the holiday season with a Secret Santa gift exchange!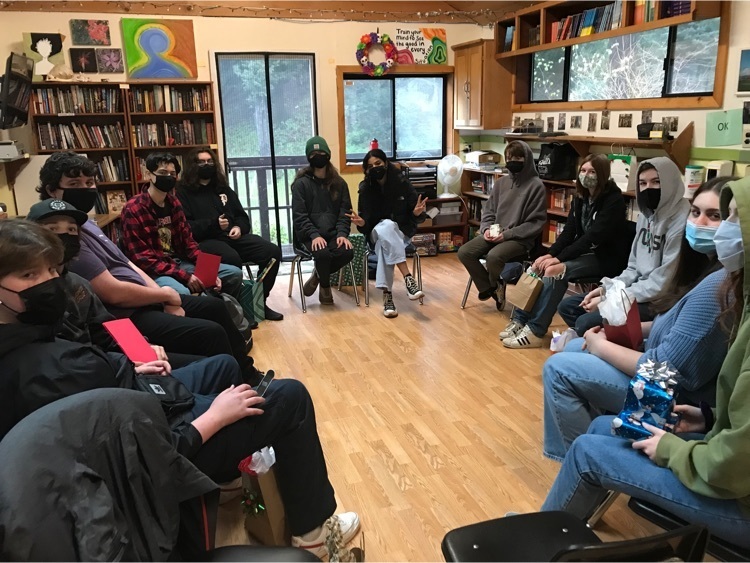 Due to icy roads this morning (Chemise Mtn and Kings Peak), we have scheduled a LATE START. See you at 10:30 AM. Keep safe and warm!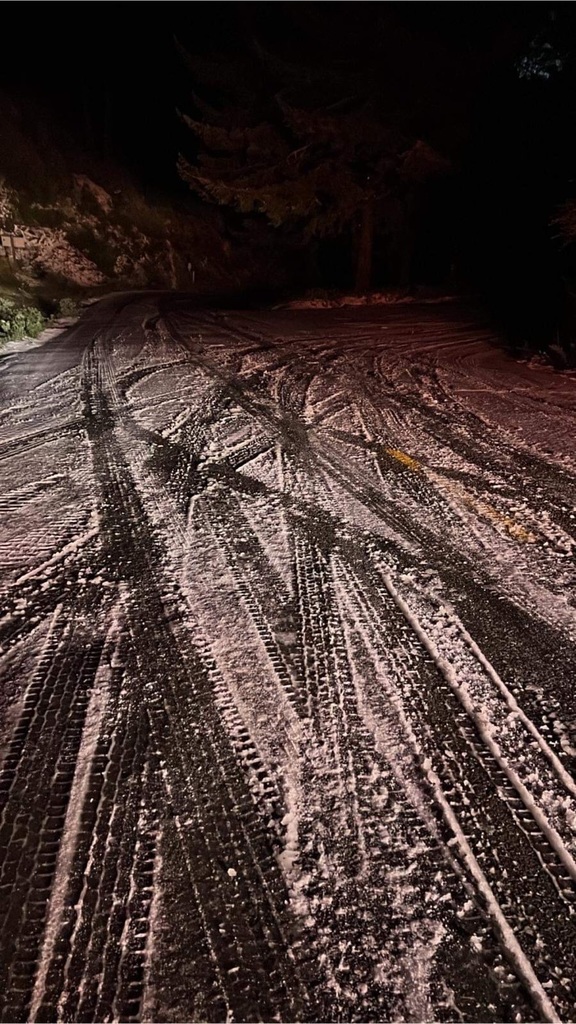 Whale Gulch students eating at Kaleidoscope in Grants Pass. Apparently, the best pizza place in the world.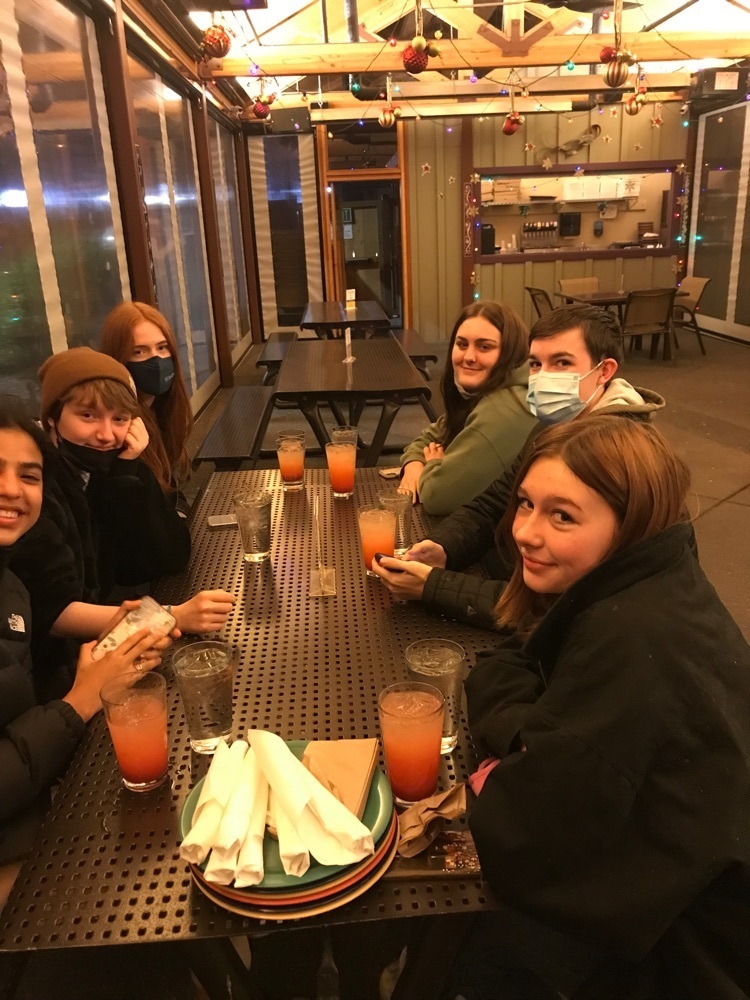 Congratulations to Whale Gulch High School Honor Roll students: Claire Kaufman, Kenna Myers, Aziza Leskar, Ulysses Silva, Malena Diaz Rivero, Koen Etter, Drake Barker, Malik Gibbs, Canyon Hargrave, Finn Lukowski, Nathaniel Lyons, and Jasper McKee Congratulations to Whale Gulch Junior High School Honor Roll students: Sebastian Flores, Yoshi Hatch, Luca Umina, Adrian Flores, Scarlett Etter, Leora French, Alaia Larson, Aria Byers, and Isabella Vassallo Arredondo

Our board member Ithica Moore, and her first visit to Whale Gulch School!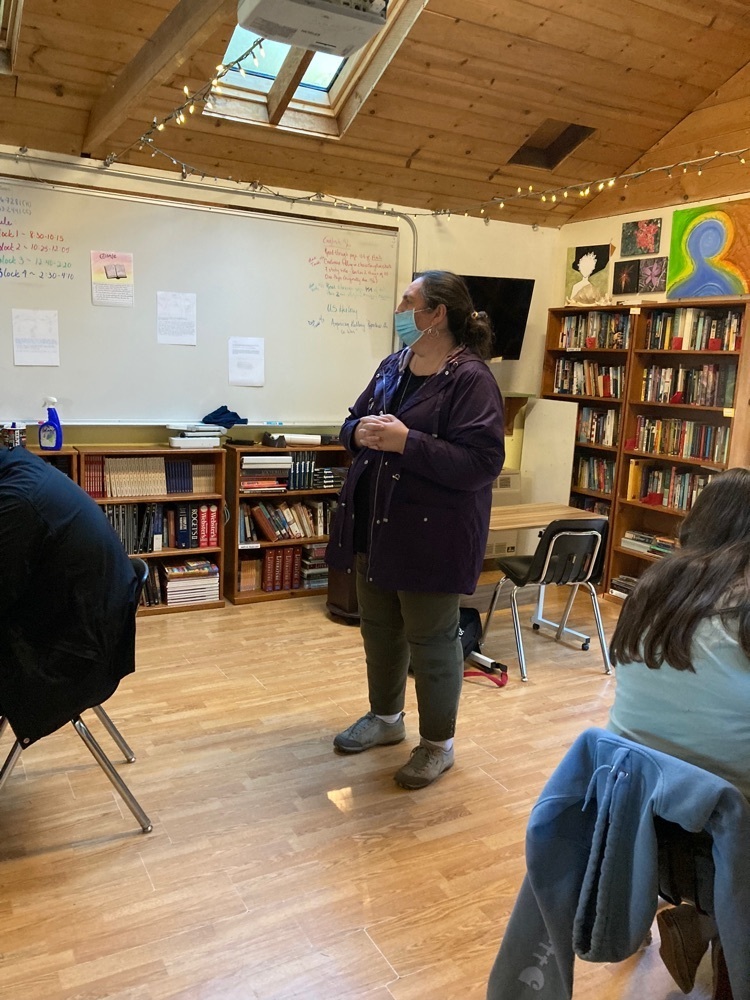 Middle school and High School students studying at Whale Gulch Schools.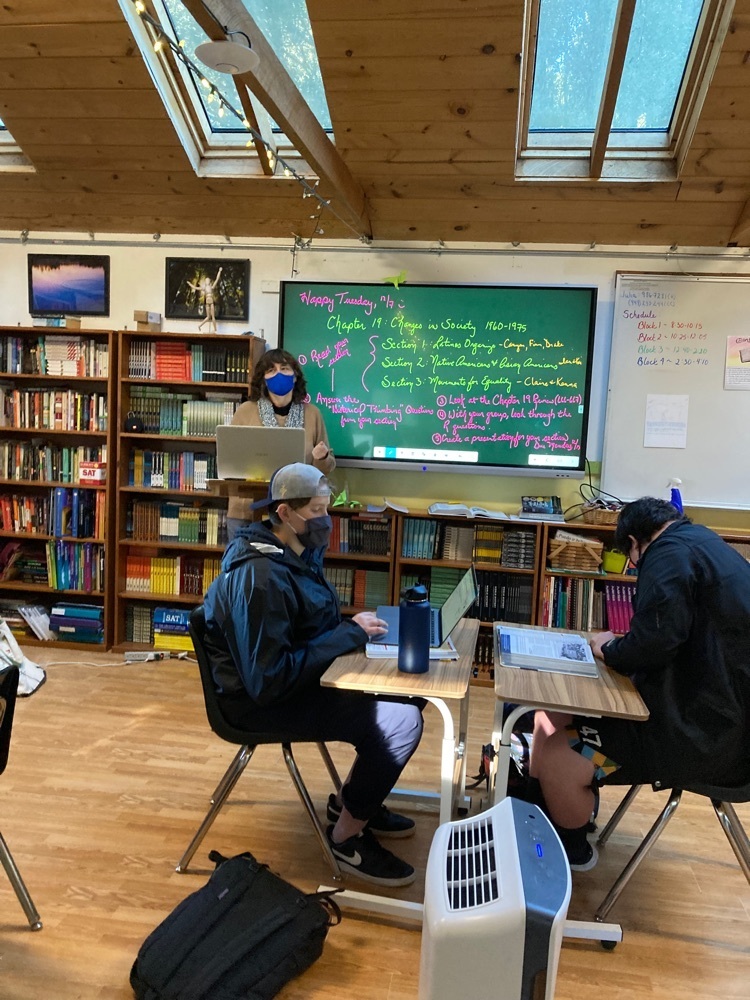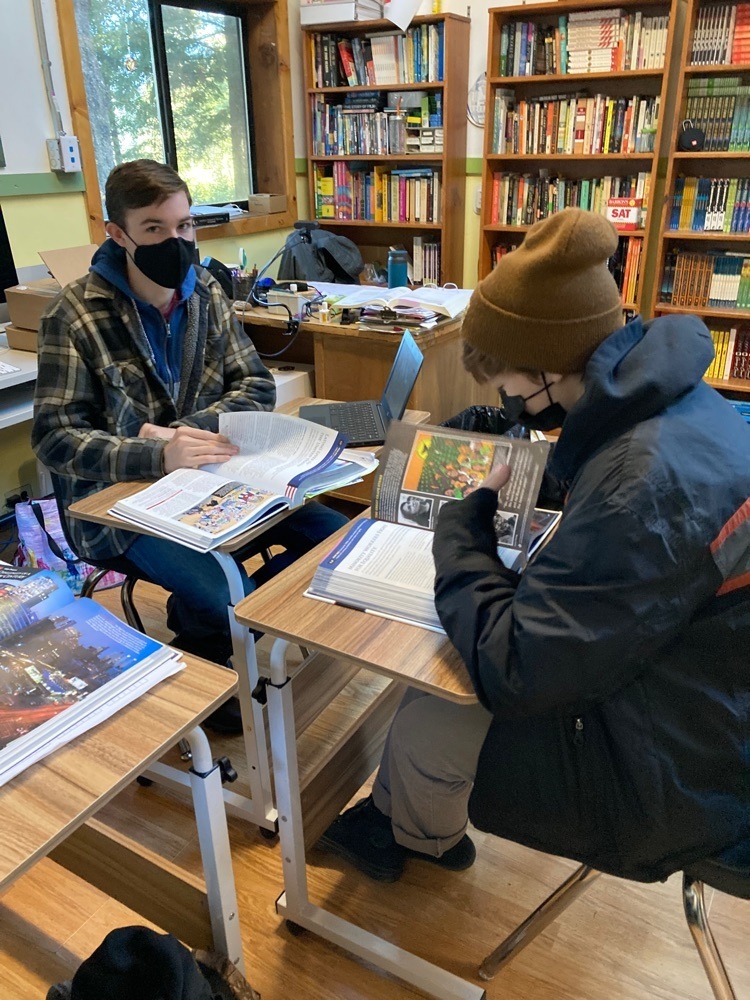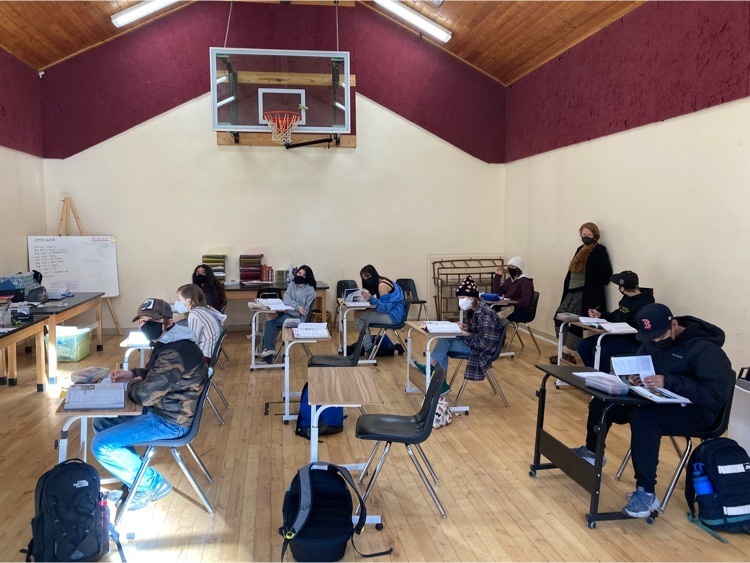 Honor Roll: LVHS Dante Clark, 12th Noelle Losee, 11th Gerelynn Skaggs, 10th Mitchell Stuth, 10th Kaylee Sutherland, 11th Grace Wildflower, 11th Jaden Lee, 12th Evan McCall, 11th Alexander Reamey, 9th Durbin Thompson, 9th Melodi Lee, 9th Milla Meinecke, 11th Layla Whaley, 8th Zachary Pierson, 7th Penelope Felt, 7th Atlas Ridinger, 8th Gabriel Ryf, 8th

Hello Whale Gulch family and friends! This is Jeff Ritchley, your Superintendent of Schools. One of my goals is to improve communication among parents, students, and staff. Hopefully this communication machine helps with that goal. I would like to personally invite you to our new website and communication resource. Over the next few weeks, this resource is going to improve and grow as the website grows and we personalize it. If you have friends and family that want to get alerts and notifications from the school district just give the name, number and email to Brenda, and we can make the appropriate groups. I look forward to communicating with you through this communication machine. Have a wonderful weekend, and I will send you a personalized voice alert next week, so stay tuned. Lets see how this works!

Enjoy your Thanksgiving break!


Happy Thanksgiving Break! We will see you back at school on Monday, November 29th!

Welcome to the 2021-2022 School Year Leggett Valley Schools